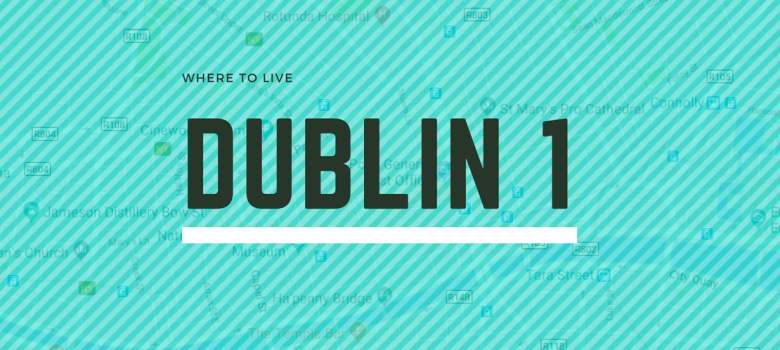 General information
Dublin 1 is a central area on the north side of the city. The central location of Dublin 1 offers easy access to most public transport routes.
The quality of accommodation in Dublin 1 varies. Good quality apartment blocks and gated developments may be situated next to a poorly insulated, damp buildings. The most convenient areas in terms of their location are: Parnell Street, Capel Street, Talbot Street, Mountjoy Square and Gardiner Street. Accommodation near the IFSC (International Financial Services Centre) and Spencer Dock tends to be more expensive.
There are plenty of job opportunities in retail and catering as well as more career oriented jobs. There is also a wide array of entertainment options available such as cinemas bars and restaurants. The downside of Dublin 1 is that it is usually crowded and noisy.
Dublin 1, especially the inner-city, has a very eclectic vibe to it. Places like Moore Street or Parnell Street illustrate perfectly how all-embracing Ireland has become in the recent years. You will find a variety of authentic international stores and restaurants here.
Advantages:
Central area
Easy access to public transport
A lot of entertainment options
Plenty of job opportunities
Disadvantages:
Crowded and noisy
Extremely difficult to find good accommodation options
Expensive
Theft and petty crime is quite common
Is Dublin 1 safe?
Safety is an important concern in Dublin 1 as it is in any other central area. All in all Dublin 1 doesn't have a bad reputation and you don't see a lot of violence on the streets. However, this doesn't mean you shouldn't pay attention to what is happening around you. Maintain awareness at all times. Don't assume everybody you meet has good intentions. Try to notice and avoid people and places that may lead to problems.
Be careful when taking money out of ATMs
Take a look around when checking your phone, somebody may try to snatch it when you're distracted
In general, Irish people are very friendly and welcoming but sometimes you can run into people looking for trouble
Anti-social, usually alcohol driven, behaviour may occur from time to time
Bicycle safety tips
A special note is necessary regarding bicycles. Currently Dublin is dealing with a serious bicycle theft problem. Bicycles have become very popular in Dublin in the recent years and the problem of bicycle theft grew along with it. Dublin in general is still missing good bicycle parking facilities. Dublin 1 is one of the areas where most bicycles are stolen. Again, this is due to its central nature.
How to make sure your bicycle is secure

Buy a good lock
Whenever you can, lock your bike to "Sheffield" type stands -- ∩
Make sure to secure both wheels and the frame
For more information visit Dublin Cycling Campaign website.
Pedestrian and cyclist safety
As a pedestrian, it is very common to cross the street on red light in Ireland. Very often you simply follow your fellow pedestrians when they start walking across the street. If you're not careful, the cost may be very high. Always pay attention to the traffic before crossing the street.
Cycling in Dublin is not easy. Things are slowly improving but for many people it's still too dangerous to cycle in the City Centre. A lot of cycle lanes in Dublin 1 are on-street which means you have to take into account buses, trams, cars. However, the threats may be mitigated with a combination of common sense and investing in basic safety equipment.
Cycling survival tips:

Obey rules of the road
Wear a helmet
Use high visibility clothes
Equip your bicycle with lights
Slow down
Dart, Commuter and Intercity rail
Connolly Station provides access to DART, Commuter and Intercity rail services. DART (Dublin Area Rapid Transit) is a quick and easy way to get around Dublin. It runs along the coast of the Irish Sea from Malahide or Howth in north County Dublin soutwards as far as Greystones, Co Wicklow. Commuter Services extend to Dundalk, Longford, Dunboyne and Gorey. Intercity rail connects Dublin to Belfast.
Luas
Currently two Luas tram lines are available to commuters in Dublin. The Green line from Sandyford through St Stephen's Green towards Ashtown and Red line from The Point Village through Abbey Street towards Tallaght. Luas trams intersect in Dublin 1 providing access to both.
Buses
All major Dublin Bus routes go through Dublin 1 or are accessed easily from Dublin 1. O'Connell Street is where most buses pass through.
Busaras is the inter city bus terminus. From there you can find buses going anywhere in Ireland.
Bike sharing
Two bike sharing services operate in Dublin: dublinbikes and BleeperBike. Bike sharing schemes provide an interesting alternative to traditional forms of transport. Dublin 2 is well served by both.
Getting to the airport
Transfers to the airport are convenient using Dublin Bus routes 16 and 41, Airlink (747) or Air Coach.
Employment opportunities
Dublin 1 offers quite a lot of employment opportunities. You should be able to find a job in retail, catering or hospitality relatively easily. Additionally, the IFSC and the Docklands area form an important business district and offer a lot of options for finance professionals. Local hospitals provide opportunities for medical professionals and several English language school provide opportunities for teaching and support staff.
Retail / Catering / Hospitality
Henry street shopping district along with streets that branch out from it provide an excellent starting point on your hunt for a job in retail sector. You can also try your luck in cafés, restaurants and hotels located in Dublin 1.
Finance jobs
If your professional aspirations are related to finance, you will find a high concentration of financial institutions around IFSC (International Financial Services Centre) and north part of Dublin Docklands. The Irish Central Bank and International giants such as PwC and KPMG have their offices here.
Other opportunities
Medical professionals may investigate opportunities available in the Rotunda Hospital and Temple Street Children's Hospital.
English teachers and supporting staff may look for employment in one of the several English language schools located in Dublin 1.
Dublin 1
Interesting places