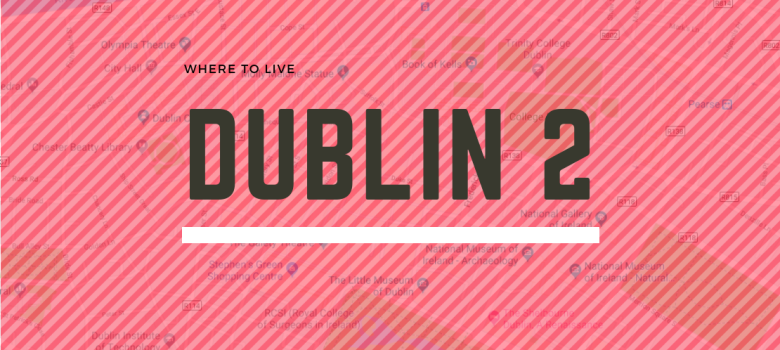 General Information
Dublin 2 is a central area located south of river Liffey. It is a touristic and commercial heart of the city. Living in Dublin 2 has clear advantages of being close to city centre attractions and employment opportunities. This comes at a significant price you will need to pay in rent. Rental properties usually consist of modern or semi-modern apartments.
It is the second most central area in Dublin. Located on the south side of river Liffey, it is considered to be more prestigious than Dublin 1 (as is the whole south of Dublin generally). Dublin 2 is where you find some of the most important landmarks and points of interest in Dublin. The Grafton Street area is famous for its expensive shops, quality pubs and always present street performers. St Stephen's Green park is located at the top of Grafton Street. The large shopping centre opposite takes its name from it.
Dublin 2 boasts several entertainment zones: Temple Bar, Dame Street, Dame Lane, George's Street, Camden Street, South William Street, Dawson Street, Harcourt Street should all make it onto your party checklist. Dublin 2 is also a central spot for culture and leisure. Trinity College is located here, a host of galleries and museums can be found here too. On a sunny day you can enjoy a stroll around Trinity campus, St Stephen's Green park, the Ivy Gardens or Merrion Square. Many language schools and colleges are located here. Dublin 2 is by no means cheap. Rental price of a modern apartment in Dublin 2 will usually be out of reach for an average person. At a significant price you can enjoy central location and access to all amenities Dublin has to offer.
Is Dublin 2 safe?
Safety tips we outlined in Dublin 1 apply here as well:
Maintain awareness at all times. Don't assume everybody you meet has good intentions. Try to notice and avoid people and places that may lead to problems.
Be careful when taking money out of ATMs
Take a look around when checking your phone, somebody may try to snatch it when you're distracted
In general, Irish people are very friendly and welcoming but sometimes you can run into people looking for trouble
Anti-social, usually alcohol driven, behaviour may occur from time to time
Bicycle safety tips
Same precautions as in Dublin 1 apply here too.
How to make sure your bicycle is secure
Buy a good lock
Whenever you can, lock your bike to "Sheffield" type stands -- ∩
Make sure to secure both wheels and the frame
For more information visit Dublin Cycling Campaign website.
Drink spiking and 'date rape' issue
There is some anecdotal evidence to suggest a growing number of drink spiking incidents in Dublin. It is a common misconception that cases of drink spiking always involve drugs such as Rohypnol. Spiking drinks using drugs does occur, however alcohol turns out to be the most commonly used date rape drug. This abuse takes the form of secretly adding double or triple doses of alcohol for unexpecting victims.
Date safety advice
Don't accept open drinks from strangers
Go home immediately if you start feeling dizzy or intoxicated
Don't trust anybody who is trying to get you drunk
Let your friends know where you are going and who you are going out with
If you have been affected by this, you can get help by calling the Dublin Rape Crisis Centre National 24 Hour Helpline at 1800 77 8888.
Dublin 2 offers excellent access to transport routes. It is served by numerous Bus routes. Luas (Green Line) runs from St Stephen's Green towards Brides Glen. All city centre attractions are within walking distance. Access to Dublinbikes offers a very popular and cheap alternative form of transport.
Dart, Commuter and Intercity rail
Pearse Station provides access to DART, Commuter and Intercity rail services. DART (Dublin Area Rapid Transit) is a quick and easy way to get around Dublin. It runs along the coast of the Irish Sea from Malahide or Howth in north County Dublin southwards as far as Greystones, Co Wicklow. Commuter Services extend to Dundalk and Longford.
Luas
Luas is a tram/light rail system in Dublin. Currently two Luas lines operate in Dublin. The Green Line extends from Sandyford through St Stephen's Green towards Ashtown. The Red Line extends from The Point Village through Abbey Street towards Tallaght. Dublin 2 provides access to the Green Line from St Stephen's Green, Dawson Street, Trinity (southbound) and Westmoreland Street (northbound) stops .
Buses
Most major Dublin Bus routes go through Dublin 2 or are accessed easily from Dublin 2. Numerous bus stops are located along both sides of Dame Street, Pearse Street (northbound), Nassau Street (southbound) and Westmoreland Street. Several Intercity bus services set out from the quays along the river Liffey.
Bike sharing
Two bike sharing services operate in Dublin: dublinbikes and BleeperBike. Bike sharing schemes provide an interesting alternative to traditional forms of transport. Dublin 2 is well served by both.
Getting to the airport
Transfers to the airport are convenient using Dublin Bus route (16), Airlink (747) and Air Coach.
Typical employment opportunities in Dublin 2 include:
Accountancy / Finance
Accounts Assistant
Accounts Receivable
Accounts Technician
Payroll Specialist
Secretarial / Admin
Personal Assistant
Executive Assistants
Support Administrator
Legal Secretary
Restaurants / Catering
Barista / cafe staff
Chef
Restaurant Manager
Kitchen Porter
Food and Beverage Assistant
Waiter
Retail
IT , Telecoms / Tech Support
Hair and Beauty
Dublin 2
Interesting places