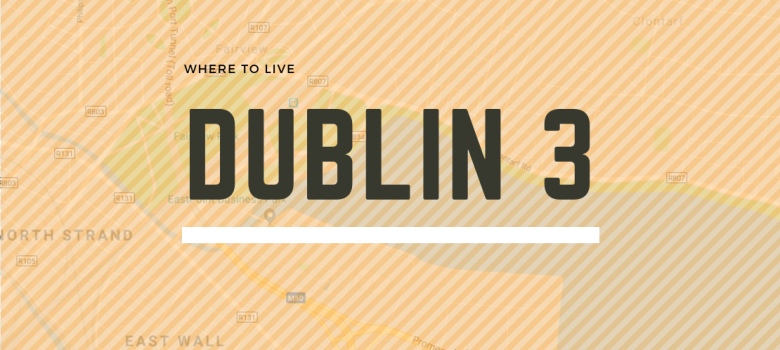 General information
Dublin 3 is situated northeast of the city, stretching from Ballybough near city centre through to the coastal suburb of Clontarf.
Generally speaking Dublin 3 can be subdivided into two residential zones each having its own distinct qualities: the central part (including Ballybough, North Strand, Clonliffe, Dollymount and East Wall) and the coastal part (including Fairview, most of Killester, Marino and Clontarf).
Central part of Dublin 3
The central part of Dublin 3 has traditionally been a much poorer region than its coastal counterpart. This is reflected in the quality and the architecture of the available housing. For the most part the available vacancies will consist of small to medium-sized houses with simple facades and limited living space. House conversions to flats are also quite common. Several modern apartment blocks built in recent years complete the property landscape in this area.
It is quite common for the residential units to be located in close proximity to industrial and warehousing facilities.
Until recently the not-so-good status of this area resulted in discounted property prices. This isn't the case any more. In the recent years rental prices have risen dramatically along with the demand for housing. In addition to that, the proximity to city centre and easy access to employment opportunities both in the nearby EastPoint Business Park but also in the Dublin Docklands resulted in many more people choosing to live in this area. We can expect that this trend will likely continue. We can also expect more investment and gentrification of the area.
Coastal part of Dublin 3
The coastal part of Dublin 3 is predominantly residential.
Living in this area offers unique advantages. Firstly, the distance to city centre is still very convenient. A largely segregated (off-street) cycle lane from Clontarf to City Centre makes cycling an attractive option. This is in addition to Dart and buses serving this area. At the same time, you can enjoy a suburban, peaceful atmosphere away from the hustle and bustle of the city.
In your leisure time, you can go for a scenic walk or a bicycle ride along the seafront or choose from one of many excellent restaurants in the area. Apart from cycling a range of sporting and outdoor activities is available to you here or in vicinity of the area. Let's list some examples:
West Wood gym is a large gym with a 50 meter swimming pool
Fairview Park has pitches, children's playgrounds and tree lined walking paths, it forms a part of Clontarf to City Centre cycling route
Clontarf Yacht & Boat Club gives access to the sailing and boating community
Clontarf Golf Club is open for membership and visitors
St Anne's Park located in Raheny, Dublin 5, is a 240 acre park containing recreational facilities, a rose garden, playgrounds, etc.
Let's now turn to some disadvantages of the area but quite frankly there aren't many. One of the biggest disadvantages is that there aren't too many big shops around. This is a tradeoff between convenience and the overall peaceful atmosphere of the area. In order to stock up you will need to consider going to the nearby East Wall where two well-known German discount brands set up shops opposite one another.
Price and availability are the other limiting factors. Clontarf and Killester in particular carry a very high price tag but Fairview and Marino are not far behind. However, even if price is not an issue, the supply of housing in this area seems to be quite low. This is probably due to the fact that most of the properties are owner-occupied and there aren't many new developments.
Ballybough, North Strand, Clonliffe, Dollymount and East Wall
These areas do not have good reputation but some improvement can be seen in the recent years. Caution is advised.
Fairview, Killester, Marino and Clontarf
These areas have good reputation, however follow general safety precautions at all times.
Dart
Clontarf Station provides access to DART. DART (Dublin Area Rapid Transit) is a quick and easy way to get around Dublin. It runs along the coast of the Irish Sea from Malahide or Howth in north County Dublin southwards as far as Greystones, Co Wicklow.
Buses
A lot of bus routes serve Dublin 3 area through North Strand Rd and as far as Marino (130, 14, 15, 27, 29, 31, 42, 43). From there onwards they go different directions, however only bus 130 goes further up the coast and through Clontarf.
Getting to the Airport
Dublin 3 is not well connected to Dublin Airport via public transport. Your next best options are:
Airlink Bus from East Wall Rd near the Three Arena (Dublin 1)
Airport connections from City Centre (Dublin 1)
Dublin Bus from Drumcondra (Dublin 9)
EastPoint Business Park
Dublin 3 is where the EastPoint Business Park is located. Some of the companies based there include:
Activision Blizzard
Cisco
Citrix
Google
Oracle
Verizon
Virgin Media
Dublin 3
Interesting places