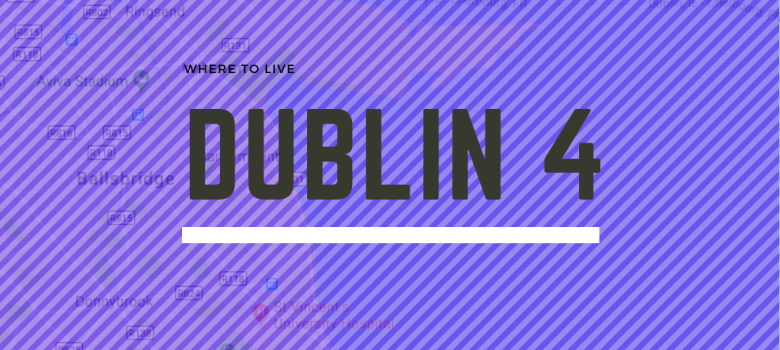 General information
Dublin 4 covers the area to the south-east of the river Liffey. It stretches west from the Dublin Bay area towards the Grand Canal and south towards the University College Dublin campus. Dublin 4 is considered one of the most prestigious areas to live in. That being said, the catchment area of Dublin 4 also includes some less affluent parts.
When referring to Dublin 4 people usually think of neighbourhoods such as Ballsbridge, Donnybrook and Sandymount. Within those parts, probably the most prestigious addresses are Mary's Rd, Shrewsbury Rd and Ailesbury Rd. A great number of diplomatic offices and embassies are located in this area. As a further validation of the status of these streets let's mention that the latter two streets are featured as prime locations in the Dublin edition of the Monopoly board game. However, Dublin 4 also covers a part of Grand Canal Dock, Ringsend and Irishtown. While these areas are considered less prestigious, if you choose to live anywhere in Dublin 4, you have to be ready to pay the Dublin 4 premium. Dublin 4 also covers the area of Poolbeg peninsula. At time of this writing this area is not residential, however a major housing development plan is underway.
The most sought after properties in Dublin 4 are Victorian estates with their characteristic red brick houses. The development of these properties is closely linked with the industrial revolution of the 19th century and the rise of the Dublin middle class. We can also come across some examples of more modern architectural designs in Dublin 4. One example being the Gasworks apartment complex in Ringsend which was built on the site of a redundant gas storage facility. Examples of modern architecture in houses are very few probably because of strict planning laws in Ireland. However, a number of contemporary apartment complexes are scattered around Dublin 4 which are especially attractive to high earning professionals working in the City. We can also find a lot of modest looking houses and slightly dated apartment blocks around Dublin 4. Nevertheless, these properties will also carry a higher-than-average price tag due its location.
INTERESTING FACT
Over the years the name Dublin 4, often abbreviated to D4, has become a general label used to describe qualities attributed to the Irish upper-middle class whether or not they live in Dublin 4.
Is Dublin 4 safe?
Dublin 4 is considered one of the safest areas of Dublin. That being said, general safety precautions always apply.
Dart
Lansdowne Rd, Sandymount and Sydney Parade stations provide access to DART. DART (Dublin Area Rapid Transit) is a quick and easy way to get around Dublin. It runs along the coast of the Irish Sea from Malahide or Howth in north County Dublin southwards as far as Greystones, Co Wicklow.
Buses
Dublin 4 is on a number of City Centre and cross city bus routes.
Getting to the Airport
The Aircoach service routes 702 and 703 connect Dublin 4 with the Dublin Airport.
Bicycles
Wide streets and cycle lanes make it possible to commute to and from Dublin 4 safely using a bicycle.
Typical employment opportunities in Dublin 4 include:
Secretarial / Admin
Legal secretary
HR
Customer advisor
Accountancy / Finance
Accounts payable
Accountant
Hair and beauty
Beauty therapist
Nail technician
Hotels
Accommodation assistant
Hotel receptionist
Hotel manager / supervisor
Front office manager
Maintenance technician
IT , Telecoms / Tech Support
Support engineer
Data analytics manager
Business analyst
Network administrator
Restaurants / Catering
Waiting staff
Restaurang supervisor
Dublin 4
Interesting places