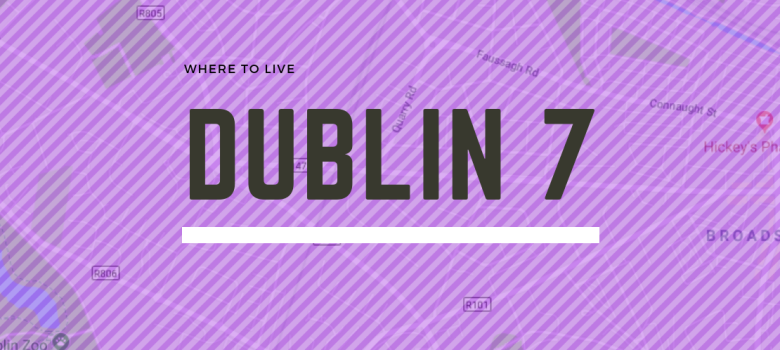 General information
Dublin 7 stretches northwest of Dublin 1. Let's look at a few Dublin 7 neighbourhoods and explore their characteristics.
Smithfield and Stoneybatter
Smithfield is located to the west of Dublin 1 and Stoneybatter is located north of Smithfield.
Smithfield has been completely transformed over the years. Smithfield Square, once home to a famous livestock market, has been redeveloped and now boasts several modern apartment blocks, offices and shared work spaces, an art house cinema, a boutique gym, several cafés and restaurants. It is a vibrant place and a sought-after, albeit very expensive area to live. More affordable options are available in several apartment block complexes located in the vicinity of Smithfield Square. One example is the Richmond.
Out of the transformation several traditional pubs emerged as the guardians of the Irish heritage. The Cobblestone in particular, is probably the best place to enjoy authentic traditional Irish music session. As we move north towards Stoneybatter the apartment blocks give way to traditional cottages, which are characteristic to this area. Their quality varies and can range from well maintained, charming homes to really neglected ones that may pose a health risk.
Grangegorman
Grangegorman was best known as the site of the main psychiatric hospital for the Dublin region. After its closure, the hospital grounds formed the largest undeveloped area in the city of Dublin. DIT (Dublin Institute of Technology) is currently in the process of changing the Grangegorman site into a student campus. You can expect further development of student oriented facilities here.
Phibsborough
Phibsborough (or Phibsboro as is the other accepted spelling) is situated north of Dublin 1 in a distance that is just about walkable to the City Centre. Iconic to Phibsborough are Victorian era red brick houses that dominate the housing landscape. Owning one of these houses is a dream for many people and Phibsboro is often the only place where these buildings are affordable. This has had a significant effect on Phibsborough in recent years. It used to be the case that Phibsborough offered reasonably priced accommodation close to the City Centre. However, it is now much harder to find cheap offers regardless whether you are looking to buy or rent. We can also see some obvious signs of gentrification in the form of hipster cafés and organic food stores popping up. Nevertheless, to a large extent, Phibsboro still maintains the 'rough edges' associated with its working class background.
Cabra
Cabra is situated northwest of Phibsborough stretching between Cabra Rd and Royal Canal. Cabra still maintains a working class feel. Cabra's popularity is on the rise though because of the opening of Luas Cross City Line, which provides a very convenient and efficient way of commuting to the City Centre. The area is predominantly residential and the offer mainly consists of houses. Cabra can definitely improve on the leisure and entertainment options front.
Navan Rd
Navan Rd starts where the Old Cabra Rd merges with the (New) Cabra Rd. Navan Rd eventually leads onto N3 which is the main transport route to the northwest of Ireland. Dublin 7 section of Navan Rd stretches west towards the Halfway House pub with residential areas on both sides of the road. Accommodation options mainly consist of houses with the notable exception of Hampton Square which is a large gated apartment complex located just at the start of Navan Rd. Navan Rd gets extremely busy during rush hours and this needs to be taken into consideration when commuting. An added value to this area is the proximity to Phoenix Park.
Is Dublin 7 safe?
Dublin 7 is recovering from a reputation of being a rough neighbourhood.
Those parts of Dublin 7 that are relatively close to the City Centre are affected by the inner city issues such as bike theft, late night antisocial behaviour, drug use and so on. As we move away from the City Centre things start to calm down. We see fewer bars and fewer passers by but as your surrounding becomes more quiet it also becomes more isolated. In that environment it is crucial to maintain situational awareness especially when walking home at night time.
In relation to more violent crimes, over the years several shootings occurred in the vicinity of Cabra neighbourhood.
Another concern that needs to be highlighted with respect to Dublin 7 is the question of road safety. Navan Rd area and its branching roads leading towards the City Centre get extremely busy especially during rush hours. Most of the cycle lanes are on-street and are separated from car traffic only by markings on the road. This makes cycling significantly more dangerous.
Buses
Phibsboro and parts of Cabra are very easily accessible by bus routes 38, 120, 122 and 140.
Navan Road is served by bus routes: 37, 38, 39 and 70 but the roads can be extremely congested with traffic during rush hours.
Luas
Luas is a tram/light rail system in Dublin. Currently two Luas lines operate in Dublin. The Green Line extends from Sandyford through St Stephen's Green towards Ashtown. The Red Line extends from The Point Village through Abbey Street towards Tallaght. Smithfield is served by the Red Line while Grangegorman, Phibsboro and Cabra are served by the recently extended Green Line.
Bike sharing
Two bike sharing services operate in Dublin: dublinbikes and BleeperBike. Bike sharing schemes provide an interesting alternative to traditional forms of transport.
Dublinbikes serves Dublin 7 area as far as Grangegorman and Phibsborough.
BleeperBike serves Smithfield, Stoneybatter, Grangegorman, Phibsborough and Navan Rd area.
Getting to the airport
Dublin 7 does not have a direct connection with the Airport. Your choice is to either go to the City Centre and avail of options available there or take a taxi. A taxi from Dublin 7 should cost somewhere between €20 - €25
Employment opportunities
Smithfield is a particularly good area to look for employment in Dublin 7. Many legal firms are located here because of the vicinity to the Four Courts complex. Similarly, several Translation / Interpreting services have offices in Smithfield to cater for legal matters that require multilingual support. In addition to that, several start-ups and New Technology companies have set up their businesses here. For freelancers Smithfield offers hot-desking and shared office spaces. In terms of traditional industries, you can also find employment in wholesale food distribution and processing.
If you are looking for casual work in Dublin 7, good places to start are Smithfield Square and Phibsborough. At any point in time you should be able to find opportunities in pubs, cafés, restaurants and shops. As we move further away from the City Centre and into more residential areas the number of opportunities decreases.
Dublin 7
Interesting places