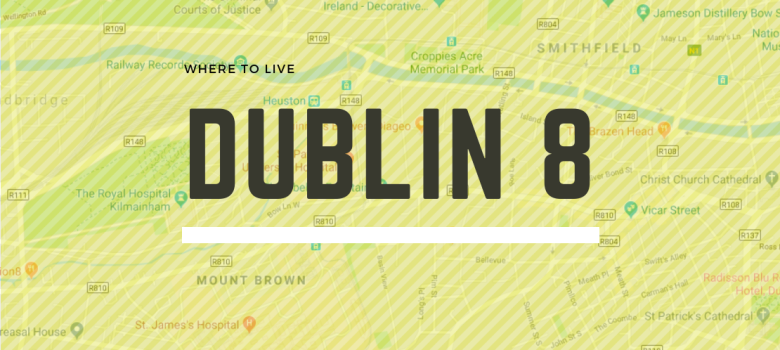 General information
The area covered by Dublin 8 code is very large and varied. It is significant both historically and culturally. Dublin 8 is located west of Dublin 2. The Dublin 8 area spans from Christchurch down south to Inchicore and from Dolphin's Barn west towards Portobello. An interesting fact is that Phoenix Park, which is north of the river Liffey, is also part of Dublin 8. This is an exception to the rule that areas north of the Liffey have odd number designation.
Dublin 8 is home to the world famous St James's Brewery, established by Arthur Guinness - the makers of Guinness stout. Formerly the largest brewery in the world, it is still the largest brewer of stout beer. The brewery was, and still is, one of the major employers in the area. The company has always shown a lot of concern for the welfare of the employees. A perfect illustration of that are housing projects spearheaded by the Guinesses at the end of XIX century. First providing for the housing needs of the employees of the company, then later extended to combat homelessness and poverty in the area.
Some of the buildings from that period still remain in use to this day. In fact, the character of Dublin 8, its architecture and atmosphere, owes a lot to the Guinness family and their ventures.
Undoubtedly, Dublin 8 has undergone a huge transformation and nowadays apartment blocks and gated communities dominate the property landscape. The entrepreneurial spirit is perhaps best embodied by the startup incubators based in Dublin 8, most notably the Guinness Enterprise Center, NDRC and Digital Hub. Together they account for the biggest startup cluster in Ireland. With all that being said, Dublin 8 still manages to maintain its working class feel.
Along with Dublin 6, Dublin 8 is one of the most popular rental areas in Dublin. Dublin 8 is attractive to students and newcomers given its location, easy access to the City Centre and relatively high number of rental opportunities. A word of caution though as the quality of accommodation can be quite poor in some cases.
Is Dublin 8 safe?
Safety tips we outlined in Dublin 1 apply here as well:
Maintain awareness at all times. Don't assume everybody you meet has good intentions. Try to notice and avoid people and places that may lead to problems.
Be careful when taking money out of ATMs
Take a look around when checking your phone, somebody may try to snatch it when you're distracted
In general, Irish people are very friendly and welcoming but sometimes you can run into people looking for trouble
Anti-social, usually alcohol driven, behaviour may occur from time to time
Bicycle safety tips
Same precautions as in Dublin 1 apply here too.
How to make sure your bicycle is secure
Buy a good lock
Whenever you can, lock your bike to "Sheffield" type stands -- ∩
Make sure to secure both wheels and the frame
For more bicycle tips and information visit Dublin Cycling Campaign website.
Drink spiking and 'date rape' issue
There is some anecdotal evidence to suggest a growing number of drink spiking incidents in Dublin. It is a common misconception that cases of drink spiking always involve drugs such as Rohypnol. Spiking drinks using drugs does occur, however alcohol turns out to be the most commonly used date rape drug. This abuse takes the form of secretly adding double or triple doses of alcohol for unexpecting victims.
Date safety advice
Don't accept open drinks from strangers
Go home immediately if you start feeling dizzy or intoxicated
Don't trust anybody who is trying to get you drunk
Let your friends know where you are going and who you are going out with
If you have been affected by this, you can get help by calling the Dublin Rape Crisis Centre National 24 Hour Helpline at 1800 77 8888.
Commuter and Intercity rail
Heuston Station provides access to Commuter and Intercity rail services providing links to and from the west and south-west of Ireland.
Buses
Dublin 8 is served by multiple bus routes. At peak times high traffic might cause considerable delays.
Luas
Luas is a tram/light rail system in Dublin. Currently two Luas lines operate in Dublin. The Green Line extends from Sandyford through St Stephen's Green towards Ashtown. The Red Line extends from The Point Village through Abbey Street towards Tallaght. The Red Line goes through Heuston Station and St James's Hospital area in Dublin 8.
Bike sharing
Two bike sharing services operate in Dublin: dublinbikes and BleeperBike. Bike sharing schemes provide an interesting alternative to traditional forms of transport. Dublin 8 is served by dublinbikes and BleeperBike.
Getting to the airport
Dublin Bus operates an AirLink 757 service connecting Heuston Station with the Airport.
Employment opportunities
Dublin 8 provides an easy access to the City Centre and all the opportunities that come along with it, for instance in Retail, Catering and Hospitality. In addition to that there are also some employment opportunities that are specific to Dublin 8.
Startups / entrepreneurship
Dublin 8 is well-known for fostering startup culture through several startup hubs based there:
Together they form the biggest startup cluster in Ireland.
Medical Professions
Medical professionals may investigate opportunities available in the St James's Hospital, St Patrick's University Hospital and Coombe Women's Hospital.
Dublin 8
Interesting places